Precision Overhead Garage Door Openers of Scranton
Serving The Entire Northeastern PA & Wyoming Valley Area Including Scranton, Wilkes-Barre, Hazleton, & The Poconos

(844) 787-7705
OUR AVERAGE RATING





WITH 17 REVIEWS
4 STAR

0%

3 STAR

0%

2 STAR

0%

1 STAR

0%
COVID-19 - We're Open
We Are An Essential Business. Click Here To Learn How We Are Keeping Our Customers & Employees Safe.





WITH 17 REVIEWS
4 STAR

0%

3 STAR

0%

2 STAR

0%

1 STAR

0%
Click
to view local phone numbers
(570) 218-7894
(570) 218-7894
---
Scranton Area





Archbald

Carbondale

Chinchilla

Dalton

Dushore

Elmhurst Township

Factoryville

Falls

Fleetville

Forest City

Jermyn

Jessup

La Plume

Laceyville

Lake Winola

Mehoopany

Meshoppen

Moosic

Moscow

Nicholson

Olyphant

Peckville

Ransom

Scranton

Springville

Sugar Run

Tunkhannock

Union Dale

Waverly
(570) 221-7445
(570) 221-7445
---
Wilkes-Barre Area
Click to expand
Bear Creek Village

Benton

Cambra

Dallas

Duryea

Glen Lyon

Harveys Lake

Hunlock Creek

Huntington Mills

Kingston

Lehman

Luzerne

Mountain Top

Nanticoke

Noxen

Pittston

Plymouth

Shavertown

Shawanese

Shickshinny

Stillwater

Sweet Valley

White Haven

Wilkes-Barre

Wyoming
(570) 224-2114
(570) 224-2114
---
Hazleton Area





Beach Haven

Beaver Meadows

Conyngham

Drifton

Ebervale

Freeland

Harleigh

Hazleton

Junedale

Lattimer

McAdoo

Milnesville

Nescopeck

Nuremberg

Rock Glen

Saint Johns

Sugarloaf

Sybertsville

Tresckow

Wapwallopen

Weatherly

Weston
(570) 234-0001
(570) 234-0001
---
East Stroudsburg Area





Analomink

Bartonsville

Brodheadsville

Delaware Water Gap

Effort

Gilbert

Henryville

Kresgeville

Marshalls Creek

Minisink Hills

Reeders

Sciota

Shawnee on Delaware

Tannersville
(610) 839-7930
(610) 839-7930
---
Lehighton-Palmerton Area





Andreas

Aquashicola

Ashfield

Bowmanstown

Jim Thorpe

Lansford

Nesquehoning

Palmerton

Parryville

Summit Hill
(570) 285-5517
(570) 285-5517
---
Pike County





Bushkill

Dingmans Ferry

Greeley

Greentown

Lackawaxen

Matamoras

Millrift

Newfoundland

Paupack

Rowland

Shohola

South Sterling

Sterling

Tafton

Tamiment
(570) 228-2606
(570) 228-2606
---
Bloomsburg Area





(570) 232-3400
(570) 232-3400
---
The Poconos Area
Click to expand
Albrightsville

Blakeslee

Buck Hill Falls

Canadensis

Cresco

Lake Harmony

Long Pond

Mount Pocono

Mountainhome

Pocono Lake

Pocono Lake Preserve

Pocono Manor

Pocono Pines

Pocono Summit

Scotrun

Skytop

Swiftwater

Tobyhanna
Precision Overhead Garage Door Openers of Scranton
Serving The Entire Northeastern PA & Wyoming Valley Area Including Scranton, Wilkes-Barre, Hazleton, & The Poconos
COVID-19 Statement
According to the guidelines issued by Gov. Wolf's department as of Friday afternoon, March 20th, Garage Door Services is a "Life Essential" service and permitted to serve the public accordingly. If you have a broken spring, inoperable opener or some other door issue that prevents you from using your garage door in a safe and reliable manner, we are here to help. Call, our employees will answer your questions and can schedule an appointment.
Experiencing Economic Uncertainty: For those in our community who have recently been laid off, lost their job or will experience an extended period of reduced pay, please see our letter from the owner HERE
We install and repair most garage door opener makes and models! If you need an opener installed or a garage door opener repaired in the Scranton area, give Precision a call today. Our professionally trained technicians are happy to help you choose the perfect model for your needs that also fits within your budget.
Please read on to learn about the styles and convenient features available now on some of the best garage door openers you can buy. Whether you need smart features, energy-saving openers, or battery backup options, Precision Overhead Garage Door of Scranton has an opener that will suit your needs.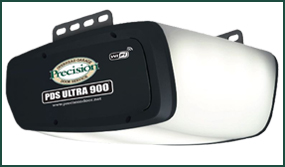 Which Type of Garage Door Opener Is Best for You?
There Are 4 Main Types of Openers
Chain Driven Openers
Chain drives are typically the most commonly used and are a very reliable type of opener. This drive runs the garage door on its track by using a metal chain. Chain drives are slightly cheaper than belt drives.
However, chain drive openers tend to be noisy, so if your garage is located below or adjacent to the main rooms in your home, you don't want this opener. We typically don't recommend these types of openers because the small savings aren't worth it. LiftMaster® also does not warranty the chain for life like it does the belt on the belt drives and the motor is much noisier.
Screw Driven Openers
Screw drive openers use a lifting device that runs on a threaded steel rod, rather than a chain or a rubber belt. These openers tend to only work well in locations where the weather and temperature is constant throughout the year. In areas with a wide range of temperature or weather patterns throughout the year, a screw drive opener is not recommended.
They also are the slowest moving and noisiest of all three openers, but are the least expensive. If you didn't like how noisy or slow your current opener was, you won't enjoy having a screw driven opener in your garage. Check out our video showing you the differences between openers below.
Belt Driven Openers
Belt drives are regarded in the garage door industry as the best type of opener. Not only are belt drives as reliable as chain drives, they are also virtually silent. This drive runs on a steel-reinforced belt and typically costs a few dollars more than chain & screw drive openers.
If your garage is attached to your home and has surrounding bedrooms, you'll never be bothered by the noise of your garage door if you get a belt driven opener installed. Many customers end up extremely satisfied with their purchase of a belt drive opener, and can't ever imagine going back to the noise of a chain opener.
Jackshaft Openers
Instead of the opener mounted in the center of your garage ceiling, the jackshaft is mounted on the wall next to your garage door and attached to the torsion spring above the door. When would you want a jackshaft? When you have high ceilings in your garage or just want to free up some ceiling space. The cost is slightly higher than a ceiling mounted opener.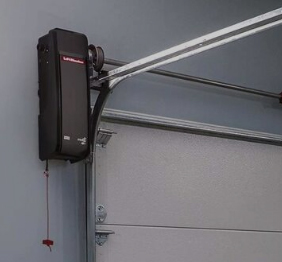 Proper Garage Door Opener Installation
What Is The Best Garage Door Opener?
Watch this video and you'll get to listen and learn which is the right type of opener for you?
Proper Garage Door Opener Installation
Watch this video and ensure your garage door opener is installed properly.
Recommended Garage Door Openers For New Installation
PDS Ultra 900 Smart Wifi Garage Door Operator
In addition to reliable performance and quiet operation, the PDS Ultra 900 belt drive opener comes with Wifi technology built in; allowing you to control it from anywhere with a Smartphone/Smart Device. A smart wall station, three button remote, wireless keypad, and a lifetime warranty on the motor and belt rail are all included.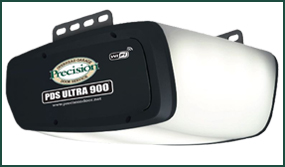 Features:
Smart Control: Control from any Smartphone / Smart Device Open and close, turn lights on/off and dim lights from anywhere.
Smart Compatibility: Connect and control with Amazon Alexa, Google Home, IFTTT or your cars Homelink controls.
Enhanced Lighting: 24 foot wide downward-dispersing light brilliantly illuminates your garage. LED bulbs last longer, save energy and have 6 brightness level adjustments.
Eco-Friendly: Efficient design results in ongoing energy savings.
Ultra-Smooth and Quiet Operation: Variable speed operation delivers ultra-smooth, quiet performance, increasing long-term reliability.
Safety First, Safety Always: If the obstacle-sensing beam is crossed when the door is closing, the door reverses to fully open.
Park or Reverse Door: To permit both ventilation and access, the garage door can be stopped and parked during either upward or downward travel.
Secure, Responsive Remote Control: Linear remote controls operate over a long range and employ high-security technology.
Deluxe Wall Station: All controls are large, clearly marked and illuminated (door UP/DOWN control, courtesy light switch, and vacation mode).
Easy Door Release: When you need to open or close the garage door manually, simply release the operator's quick-disconnect trolley.
8550WLB DC Battery Backup Belt Drive Wi-Fi
Includes 3-button elite remote control and smart control panel
Features:
Confidently know what's going on at home with MyQ® Technology. It lets you monitor and control your Garage Door Opener and home lighting from anywhere.
Receive email or text alerts so you always know the status of your garage door and home lighting.
Download the MyQ® mobile app for free. No annual activation fee required.
Compatible with HomeLink®
Get in your garage even when the power is out with Battery Backup.
Always know your garage door is closed with Timer-to-Close, which automatically close the door after a pre-programmed number of minutes.
Have your Garage Door Opener's lights turn on when you enter the garage with the Motion Detector feature.
Prevent the door from closing if anything interrupts the safety beam that crosses the garage door opening..
Lock down your garage door and electronically monitor against a forced opening with PosiLock®.
Lifetime motor and belt, five-year parts and one-year Battery Backup warranties.
8355 ½ HP AC Belt Drive Garage Door Opener
Get reliable, durable and powerful performance with our P3 Motors™, which are specifically built for use in Garage Door Openers.
Features:
Built-in Wi-Fi® allows for smartphone control with the myQ® app.
Real-Time Alerts indicate the status of the garage door via email or push notifications.
Monitor and Control the opener from anywhere using mobile devices.
1/2 HP AC Motor is purposefully designed and built to last.
Belt Drive system for quiet, maintenance-free performance.
PosiLock® electronically protects against forced openings.
Alert-2-Close signals when a door is being closed by MyQ®.
The Protector System® invisible light beam auto-reverses the door if there is an obstruction.
8500 Liftmaster Jackshaft Opener
Ultra-quiet, space-saving, wall-mounted design. Specially designed for garages and unique applications that don't allow for a traditional garage door opener, such as garages with very low, cathedral or obstructed ceilings.
Features:
Ultra-quiet 24V DC motor performance

Optional EverCharge™ battery backup system opens door even when the power goes out

Mounts on the left or right side of door, saving tons of ceiling space.

Easily program additional remotes, keypads and/or keyless entry

Auto-force technology monitors & adjusts forces to temperature fluctuations, floor height, and door track movement
Same Day Service
All Calls Answered By A Live Operator 24/7
Evenings & Weekends Available At No Extra
Emergency Service
All Work Is Guaranteed
Open 7 Days/Week
All Major Credit Cards Accepted
Professionally Trained Technicians
We Repair & Service All Major Brands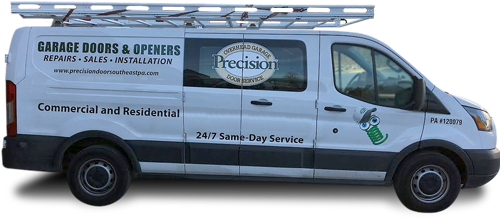 Precision Overhead Garage Door Service of North East PA
Office:

(570) 589-0999
535 N Keyser Ave
Scranton
,
PA
18504